DISCOVER CALAMUS
CALAMUS RESTAURANT
Pull up a chair.
Take a taste. Join us.
Life is endlessly delicious
CALAMUS RESTAURANT
Pull up a chair.
Take a taste. Join us.
Life is endlessly delicious
CALAMUS RESTAURANT
Pull up a chair.
Take a taste. Join us.
Life is endlessly delicious
Sip
Sip the wine. Experience our award winning wines that pair well with life
Savour
Come to Savour. We are dedicated to serve only the finest local produced foods
See
Come and see. Our telescope will bring the stars closer to you with our special events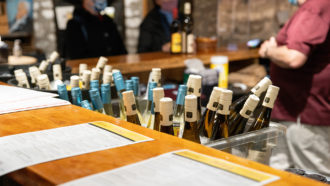 WELCOME BACK
Now Open 7 days a Week!
Our retail store is open 7 days a week, 11am to 5pm, limited to 10 people at a time as per public health guidelines, Tastings ONLY by reservation. Monday to Friday please call ahead 905-562-9303 or email rose@calamuswines.com for a Curbside Pickup Appointment.
OUR STORY
Wine that speaks from its roots
CALAMUS ESTATE WINERY started with Calamus Vineyards. A 14 acre property in 1999 near Beamsville and planted their first 10 acre vineyard in 2000. Our vineyards produce only the highest quality Niagara vinifera and hybrid grapes. We welcome you to experience the historic charm of our 1800's era heritage barns, the setting for the production area and retail outlet.

OUR FEATURED WINE SELECTION
'16 Pinot Grigio
Aromas of line, citrus, lemon and peach. Bright acidity and underlying minerality.
EXPERIENCE OUR
Chronos
Observatory
Our stargazing events, which provides our guests with a once in a lifetime experience, are always sold out. We offer not only our own telescope on our silo but one in the vineyard shown by members of the Royal Astronomical Society of Canada: Niagara Centre.
WEDDINGS
Set in a vineyard, your love story continues…
At Calamus Estate Winery we believe you should receive the entire 42 acre property to yourself on your special day.
Calamus Estate winery from start to finish, this vendor was exceptional. They helped us make our dreams come true with a rustic, romantic setting. The food, lawn games, and service were amazing, and the wines are some of the best we have ever had!
JENNIFER DIVERTY