MENU
Patio & Deck
Rated one of the best patio views in the Niagara Region. Our patio overlooking vineyard and waterfalls gardens will draw you into the beauty that is Niagara Wine Country.
.
Please Note: The Bistro Closed August 27th for the season, but you can still order Charcuterie To Go!! from The Wine Boys to enjoy on the deck.
.
Monday to Thursday 11 am – 4:30 pm
Friday from 11 am – 2:30 pm
.
Enjoy Our wines on the deck for NO corkage fee, retail bottle prices.
Monday through Friday we offer Grab and Go Gouda Cheese Bunker
Reservation's Required for The Wine Boys Charcuterie To Go!
Click here or take a chance they are available in the retail store…….
.
Our outdoor areas are dog-friendly.
Well-behaved dogs on a leash are
Welcome to visit and join you on the patio.
In climate days no problem….,
you will be seated in our century old barn loft.
—————————————————————————————————————————-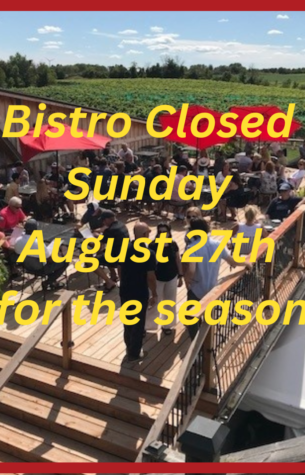 OUR FEATURED WINE SELECTION
2020 Meritage Reserve – Gold Award Winner!
Flavour: Aromas of red currant, blackberry and black cherry. Full body, rich mouthfeel and a lengthy finish are framed with flavour of vanilla, spice and licorice. Food Pairing: Pair with braised beef, lamb and game. Wild mushroom risotto and grilled beef. Alcohol: 13.1%